Many restaurants and cafes have been hit hard by the coronavirus pandemic, and even as the public begins to open up and customers return to their favorite eateries, both business owners and staff alike are still struggling to make ends meet.
Last week, though, a New Jersey restaurant called The Starving Artist got an amazing surprise when one of their regular customers left a jaw-dropping $1,000 tip on their bill, which had amounted to just over $40.
"This act of generosity and kindness goes beyond words! It was shared amongst the entire staff. The note that accompanied the check made us all cry! Thank you from the depths of our hearts!" said the caption that accompanied the photo.
But that's not all — the customer (who was kept anonymous by the restaurant, but had been coming there since 2001) also left a special note with their bill: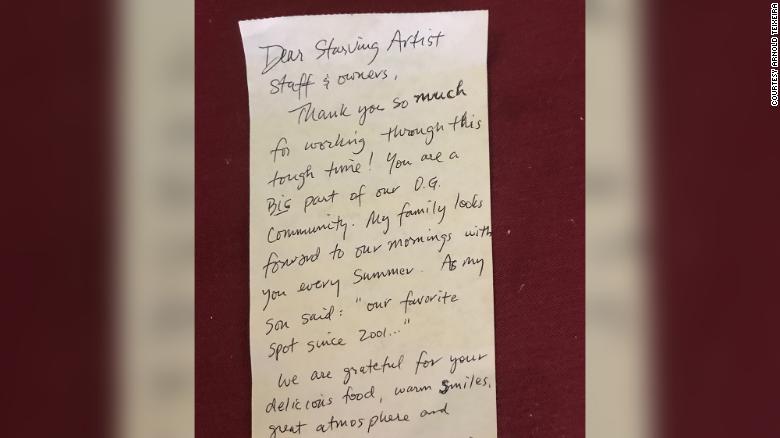 "Thank you so much for working through this tough time. We are grateful for your delicious food, warm smiles, and great atmosphere… Please know we appreciate you all very much. It wouldn't be a good summer without the Starving Artist."
The note requested that the generous tip be split among the restaurant's staff, so the owner, Arnold Teixeira, divided the amount among the seven staff members, but didn't include himself. He told CNN that he and other staff members cried when they saw the tip.
"Things just kept getting worse. It got to the point where I was preparing for the possibility that we might not be able to reopen again," Teixeira told CNN. "And now we aren't even making 50 percent of what we usually bring in the middle of the summer season. But this tip restored our hope in humanity. It made us feel so good about what we're doing. We go through a lot of steps to protect our customers, and it gets exhausting after a while, but now we know our efforts have actually been noticed."
Even though it will still be a while until businesses are out of the woods following the pandemic, gestures like these can give people hope to continue fighting.